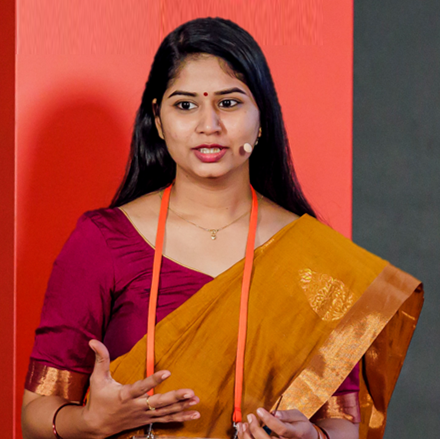 Vaishali S Pradhan  is an Indian engineer, innovator and revolutionary educationist. She is the co-founder of Young Tinker Academy and Young Tinker Foundation, which was started in 2015 to educate the less-privileged students of rural India through an interdisciplinary curriculum. She is also known for designing innovative labs, teaching tools, and indigenous projects which solve real-life problems. Her team at Young Tinker Foundation has impacted the lives of 1,50,000+ students across India. 
She has also developed content in the vernacular language by introducing Tab-based learning. She is also shortlisted among the top 130 women entrepreneurs for Women Transforming India Award by NITI Aayog, Government of India.
Recently, she was invited to the Berlin Science Week as the Winner in Science Engagement category in the Falling Walls Engage conducted by the Falling Walls Foundation, Berlin, Germany.
In 2021, she created India's 1st U-19 team which secured World Rank 3 in NASA's Rover Challenge 2021. This student team comprised of students from all spheres of life such as an 18 -year old boy who was earlier a cycle mechanic, and a 17-year old girl who worked in a welding shop to name a few. This Indian team made everyone realise the potential of the students at the grassroots. Her another student team won one of the category award at NASA Rover Challenge 2023, which included students from orphanages & remote villages apart from other students.
She has also received prestigious awards like 3M-CII YICA Special Impact prize, Award of Excellence by STPI, Govt of India. Her focus of work is on bringing girls & women in S.T.E.A.M. She believes the women's talents whom we nurture are the true achievements of her work. She is working on creating women role-models who can become leaders and take the nation forward.