Written by – Sai Akshara Vemuri
It's 14th APRIL 2023, 5 A.M. A low volume of chant woke me up from my sleep. This wake-up call was not a regular one that I got used to. It was a sort of devotional vibe that permeated all through my home and my heart. I was overwhelmed with a lot of joy and excitement as I was about to embark on a long trip alone with my team members.
On my way to Vijayawada airport, I received so many phone calls from my family members wishing my team and me good luck. Everyone in my family was so proud that a 17-year-old girl from their family was going to NASA and that was a moment of joy and a sense of pride for all of them. I was deeply moved by the love and affection that was showered upon me by my dear ones and the concern they had for me as I was leaving for the US all alone without my parents or relatives. My parents too were so anxious and concerned about me as they had never let me travel alone. This journey was a kind of new experience for them as well as for me as I was traveling independently. I was really touched by their love and was strengthened in spirit to meet new horizons.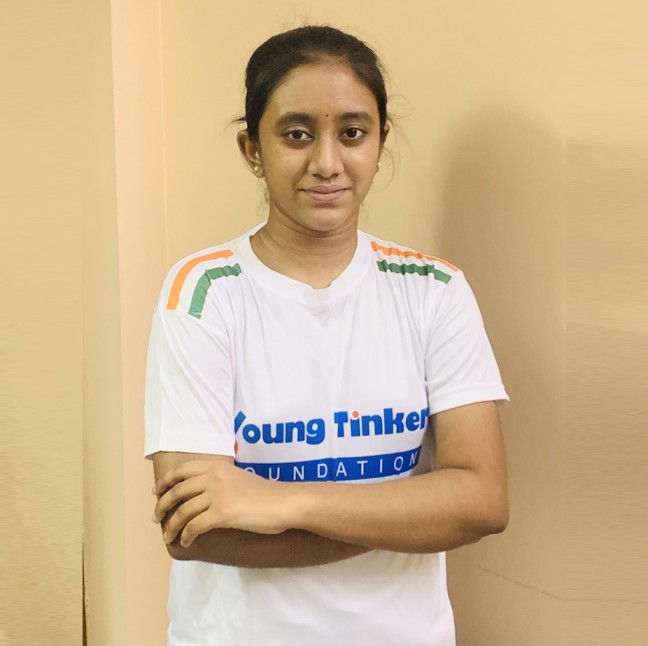 I was full of thoughts about how my trip is going to be until I met my team at New Delhi Airport. As soon as I met my team and my young talented mentors and the way they talked to me with warmth brought me out of the gloom. I could feel that they were going to be my family all through my trip to NASA. I was so glad to interact with my mentors with whom all our parents had placed a lot of trust. We all had a great time interacting with one another at the airport there in Delhi.
We boarded the plane to CHICAGO at 2 a.m. IST. All through our journey to Chicago that lasted for 15 hours, we had a lot of fun by sharing our experiences, watching movies and cracking jokes. We were unaware how the 15 hours of time passed with a little sleep and hearty laughter. We felt as if we were at Chicago within no time and this was one of the joyous moments for all of us. There came the announcement, "Dear passengers and cabin crew please take your seats for landing". This announcement brought a glow in everyone's eyes…. We were all eagerly waiting for the plane to land. Soon the plane was on the run way and we had landed at the Chicago O' Hare International airport.
After completing all the procedures, we stepped out of the airport and we were received by the windy city's frigid breeze right at our faces. I couldn't believe my eyes that I was at Chicago – a city that is known for its jaw-dropping architecture, vibrant music scene and amazing food that make Chicago very unique and special to the visitors. The warm welcome by the Mahapatra family made us forget the hectic travel. The house, community and the iconic neighborhood was so beautiful and affectionate that we were indulged into it for few hours until we realized that it was time for lunch.
After lunch, we visited Yellow box where a LEGO Robotic competition was taking place and our whole team got a wonderful opportunity to give a short talk at the competition. Overwhelmed by the great experiences so far one after the other right from the time we stepped into the US, made me feel that the two weeks of trip was going to be a well-planned and fun filled ride with many experiences and surprises.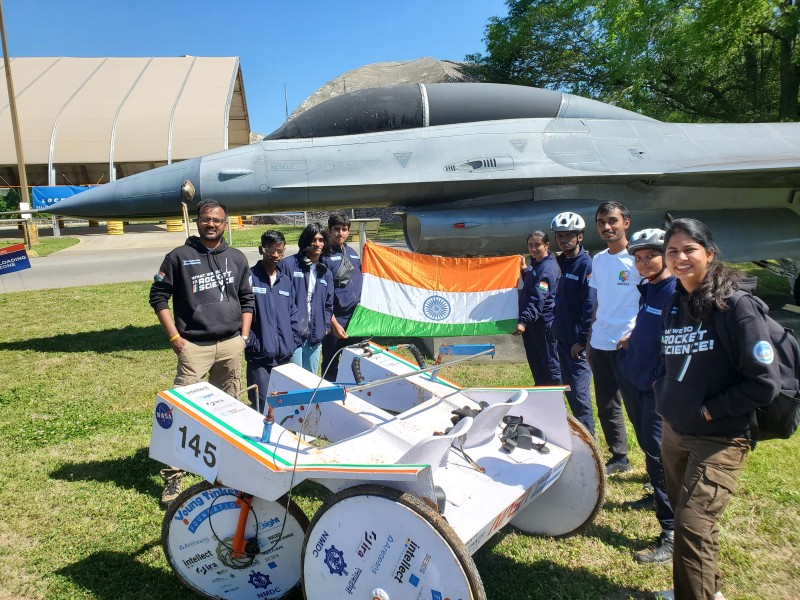 The visit to the Museum of Sciences & Industries in Chicago is no less than a wonder and is a must-see. The chance to stand before a 40 feet tornado; taking a run in a human-sized hamster wheel and much more was really a great thrill! It's not a place where we just quietly walk around and observe. No way!!! We got involved to the fullest and learned many new things. The earth–shattering view at Lake Michigan, the mesmerizing architecture, the bustling streets of downtown Chicago, the stunning view of the city from the Willis Tower, and the tasty food that we tried made me fall in love with CHI-TOWN.
Meeting Lindblomeagles @ Lindblom Academy of Math & Science was very special and unique. We could see the team's hard work in all the robots they showcased. We even got a rare chance to visit their manufacturing lab.
The best and the most memorable part of the Chicago trip was the TED X NAPERVILLE which was organized in the Nokia's office at Schacht Auditorium. Every one of us gave a short presentation of 2-3 minutes and each of us shared our experiences in the journey of rover making.
Once we were done with our sharing, our team got a standing ovation from the audience. On receiving it, we were full of the joys of spring and were floating on air. The Odiya community was so warm that their hospitality never made me feel away from home. The amazing dinners we had at several houses including the Patnaik's and many others were so amazing, delicious, and mouth–watering. The people were very simple and down to earth. They put in every effort that would make our stay more memorable and enjoyable. Our hearts filled with lots of memories of meeting wonderful people in Chicago, and we left for Alabama, Huntsville. After a 2 hr flight, we were at the home of Marshall Space Center, Huntsville, Alabama. We were welcomed by a Telugu family, Mr.Karunakar ji and his wife. We had a few sandwiches on the way to our hotel room where we relaxed for a few hours.
After few hours, a sudden meeting was announced by our mentor Anil sir. He said "Guys, we have something to tell you. Our rover may not reach because the FEDX tracking is showing that the rover is still in transit and got stuck somewhere." It's thunderous news!! Everyone was struck dumb with pale faces. It was a highly complex situation. I had never come across such a typical problem in my life. We decided not to give up and do our best in other aspects.

The day 1, we had been to the Marshall Space Center for team registration. The entire pit crew was bustling with teams, and trailers and the engineering marvel rovers were placed in the tents. As we didn't have our rover, we decided to go around and interact with other teams. After a few hours of roaming about and waiting, we had a walkthrough course where the NASA engineers and volunteers guided us through the course and the various obstacles. And, it was then we learned that the obstacles were very difficult and challenging.
Day 2 of the competition was the first day of the excursion and our team's excursion was scheduled from 8-9 A.M. But we couldn't make it as we didn't have our rover. We were observing the other teams' excursions, the troubles they faced on driving through terrains, and how the wheels of rovers got dismantled. We were looking at the scoreboard and thinking of plans for what we could do next. It was then at 11 a.m., a volunteer came to us informing us that our rover had arrived at the pit crew. We couldn't believe our ears. "Is it really true???" was the expression from all of us. All the team members rushed to the pit crew to check if it was ours! HURRAY!!! It was ours. Then I truly understood that miracles happen to those who believe in themselves. Without waiting for a second … we started unpacking the rover and assembling everything and it was then we realized that our pulley was broken during transportation. We immediately rushed to NASA's pit crew to seek help. After 4 hours of NASA scientist's help and discussions, we were able to fix the pulley and our rover was ready for the next day's excursion. With a sense of satisfaction and happiness of having our rover made ready, we had our dinner at Karunakar's uncle's house.
The next day we were all set early and reached the space center to check for the last-minute settings before our excursion began at 8 a.m. It was now 7:55 am. Our riders Akankshya and Om were seated in the rover at the starting line. The whistle blew at 8 A.M. The excursion began. There was a sense of jubilation in the air as we waved our Indian flag and cheered our riders. We were constantly in touch with the riders through a phone call to guide them through the obstacles. The excursion was going on at a good pace but with a few ups and downs when suddenly the rover toppled in the middle. But both the riders handled it really well and managed to come back to the finish line. A few of our team members were at the scoreboard checking for minute-to-minute updates. Finally, the 8-month-long journey concluded with a 9 minutes excursion. We made our riders comfortable and asked them to rest for a while. Since we had a lot of time before the award ceremony, we decided to give an interview to NASA.
Later we packed our rover and went into the NASA museum to have a quick tour. All of us got immersed in the world of astronomy and space. Soon it was 6 p.m. in the evening. The time for the award ceremony. All of us got seated in the auditorium with almost no expectations as the entire challenge was very competitive. We however felt that we ourselves had won an award by staying strong during the tough situations and giving an excursion. Soon the announcement began and the winning teams were receiving the awards with thunderous applause. Then we heard "The social media award goes to Young Tinker Educational Foundation". "YIPPIE!!!" We shouted and rushed with our Indian flag to receive the award. It was a proud moment and a sense of accomplishment felt as we posed for the photograph with our Indian flag. For us, the 3 days of NASA HERC 2023 were a rollercoaster ride full of emotions and adventures that I bet no other teams might have experienced. On that day, at night we went to a mall and had a nice ice cream party and danced happily. We couldn't sleep that night as every one of us was busy sharing the news with our parents, relatives, and friends … while sir and mam were busy mailing a Thank you note to all our supporters and sponsors.

Oh my days! The NASA HERC 2023 not only taught us technical knowledge, but also many life skills. The next day we left for the capital city of USA, the beautiful Washinton DC where we were welcomed by Mr Pardha Panda and his lovely family that hosted us for the next 2 days. On that night, Pardha uncle arranged a get-together dinner with nearby Odiya families in front of whom our team gave a proud presentation of our journey and showed them our award. This gave me a chance of making new friends too!!!
The next 2 days, we were out to visit a lot of Smithsonian museums. Smithsonian museums collectively called Smithsonian Institution is the world's largest museum, education, and research complex, with 21 museums and the National Zoo—shaping the future by preserving heritage, discovering new knowledge, and sharing our resources with the world.
They are filled with lots of artifacts and knowledge. We even visited the Washington monument, Lincoln memorial and white house and took great pictures. Washington, DC offers a variety of interesting experiences, from learning about American history and government to seeing many of the most iconic sights in the country. This vibrant city is also home to great food, art, cultural attractions and much more. And of course we walked a lot!!!
The final day in the evening I had a great time with two of my father's friends who took me out for shopping and dinner. On the night of the last day, Annie aunty gifted us nice goodies and lots of chocolates. The next day morning, we had our flight back home. But I felt sad for the departure as I would miss everyone in the team and the great team spirit we had. With heavy hearts and proud feeling, we returned to India where we were welcomed grandly by our parents and friends. I received lots of phone calls and congratulatory messages. 
The NASA HERC wouldn't conclude without the aftermath celebrations. After 4-5 days of recovering from tiredness, APNRTS, an official Govt body of AP felicitated me and Akarsh and organized a press meet. The next day many newspapers covered the news and we felt very happy. Even my current school and previous school congratulated me.
The trip to NASA gave us a chance to explore and also developed the spirit of coordination, team work and developed a strong bond with one another. I've learned so much and feel so supported and valued by my STEM team. This rover project is truly a dream come true! It provided some really exciting out-of-the-box opportunities to learn about how technology is advancing space science and exploration. This experience has been one in a lifetime. I was able to experience the energy, the people, and the positivity. I was able to meet people of different age groups each excelling in their own fields was one of the rarest experiences that I have experienced. It was an awesome and incredible journey to meet different personalities who are highly skillful and proficient in their fields. I feel it was a god given boon for me to have met all those great people right from my age group to the oldest members. Interacting with them, for me, was like getting goose-bumps after having learnt of their achievements and experiences. It was an eye – opener for me to a new world of challenges. 
Yes, at the end of the day, when I recall each and every moment that I had along with my team in US trip to NASA is an unforgettable experience that would be engraved in my memory forever. Over all, my journey to NASA was the culmination of months of practice and hard work. I believe that this experience of mine would enable me to achieve and realize my passion and dreams that I have. I am really grateful to my mentors and the team who have been of great support to me all through my journey to NASA.