VSSUT Burla Welcomes State-of-the-Art Tinkerspace Established by Young Tinker Educational Foundation.
A moment of pride and innovation dawned upon Veer Surendra Sai University of Technology (VSSUT) Burla as the Young Tinker Space 2183 VSSUT Burla was successfully setup on July 31, 2023. The Young Tinker Space, an initiative by the 2017 Batch College Alumni, Anil Pradhan and Vaishali Sharma, aims to provide students with hands-on learning experiences in various areas, including hand tools, 3D printing, designing, design thinking, and rapid prototyping. The Young Tinker Space 2183 VSSUT Burla derived its name from the geographical coordinates of VSSUT Burla (21.4973°N Latitude 83.9040°E Longitude), symbolizing a sense of identity and pride among the students.
The tinkerspace project brought together students from different clubs and societies, such as the Idea and Innovation Cell, Robotics Society, Automobile Society, Pixels, and more. As part of Young Tinker's unique approach, students played an active role in setting up the tinkerspace. They formed groups, brainstormed ideas, planned the setup, and executed the assembly of the tinkerspace. The setup involved positioning and assembling the tinker station, 3D printer assembly, and mounting a pegboard on the wall.
Previously, The Young Tinker Educational Foundation, represented by Anil Pradhan, CEO of the organization, and Veer Surendra Sai University of Technology (VSSUT) Burla, represented by Prof. Bansidhar Majhi, Vice-Chancellor of VSSUT, joined hands in a momentous occasion to sign a Memorandum of Understanding (MOU) aimed at fostering innovation, training, and entrepreneurship among students. This space will be accessible to 5000+ students enrolled in various courses at the university.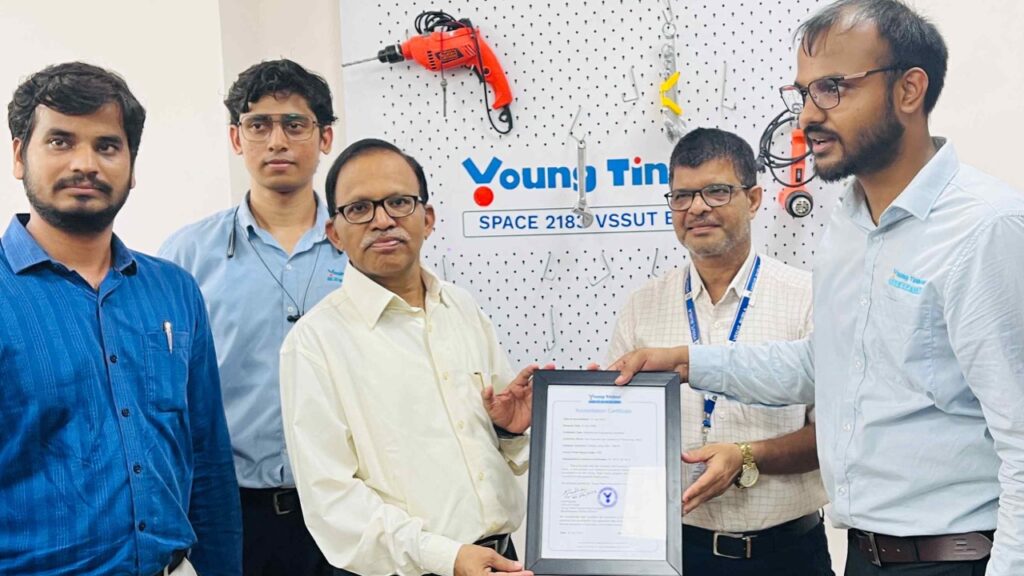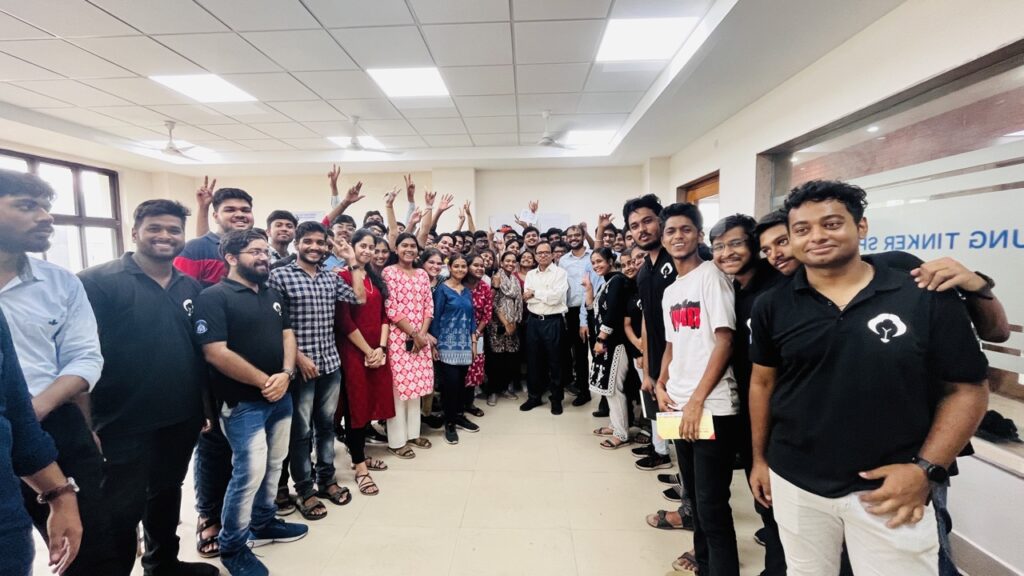 Shri Anil Pradhan handed over the Accreditation Certificate to Prof. Bansidhar Majhi, Vice-Chancellor of VSSUT. The certificate signifies the recognition of VSSUT Burla as an accredited partner of the Young Tinker Educational Foundation in their joint mission to foster innovation and hands-on STEAM (Science, Technology, Engineering, Arts, and Mathematics) education among students.
Abhishek Shukla and Alok Mohanty, members of the Young Tinker Team, provided guidance and supervision to the students during the setup process, ensuring a seamless and efficient execution. Er. Anil Pradhan, the founder and CEO of Young Tinker Educational Foundation, conducted a hands-on design thinking session for the students, inspiring them to explore their creative potential and develop innovative solutions to real-world challenges.
The Vice-Chancellor of VSSUT Burla, Prof. Bansidhar Majhi, expressed his heartfelt congratulations to the students for their exceptional efforts in bringing the state-of-the-art tinkerspace to the college. He emphasized the importance of such facilities in nurturing an innovation-driven mindset among students.
Prof. Debadutta Mishra, the Dean of the School of Mechanical Sciences, praised the tinkerspace as a significant milestone for VSSUT Burla. "The Young Tinker Space will serve as a hub for nurturing creativity and practical learning. It will equip students with the necessary skills to excel in their future careers," commented Prof. Mishra.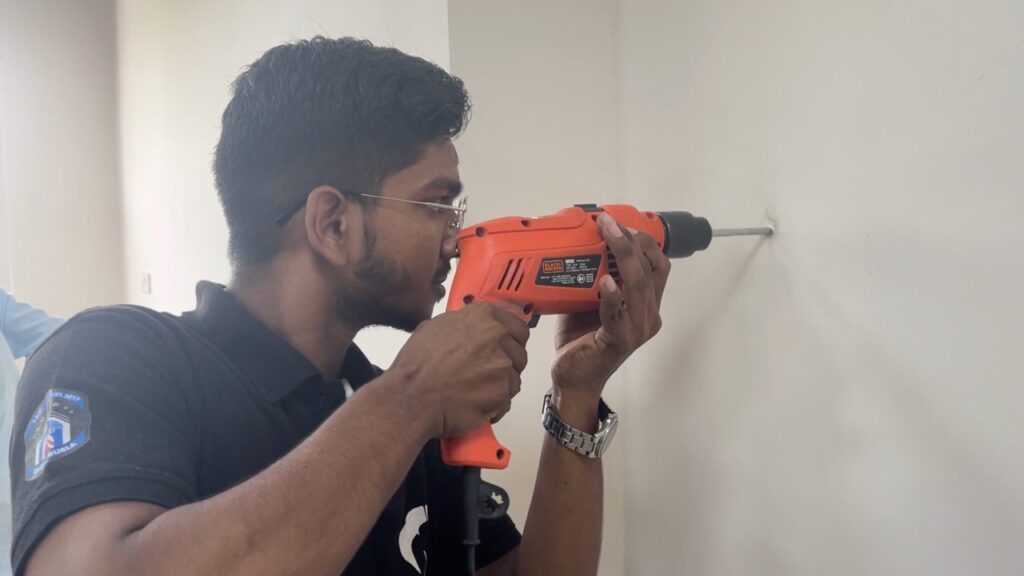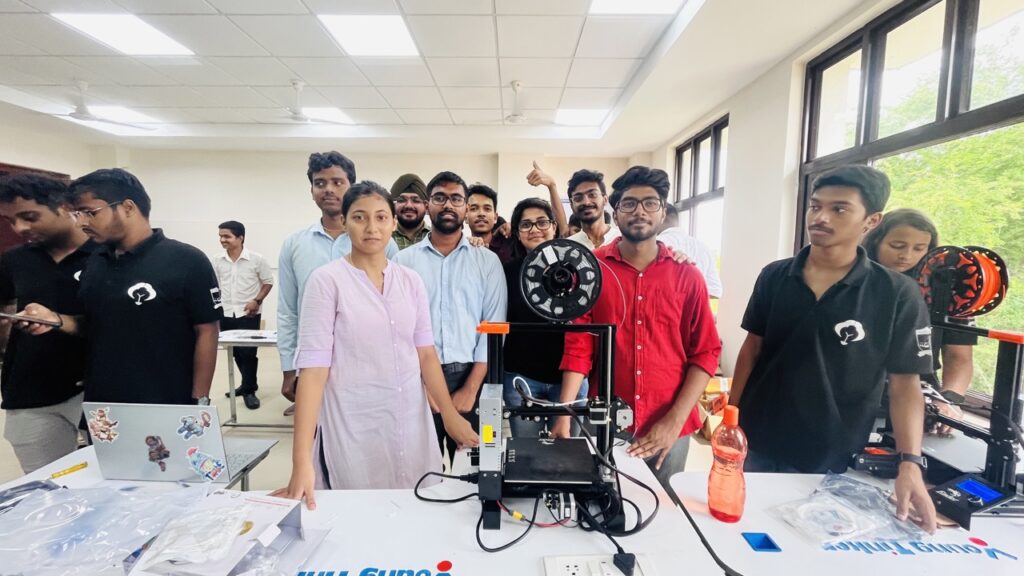 Clubs to Startups Culture at VSSUT, Burla:
Veer Surendra Sai University of Technology (VSSUT) Burla has become a hotbed for fostering entrepreneurship among its students through various student clubs and societies. Over the years, these clubs have nurtured innovative ideas and provided a platform for students to transform their visions into reality, giving rise to several successful startups. Some of the prominent startups that have emerged from VSSUT Burla include Spacefields, Homvery, IG Drones, Srujanee, Consult & Counsel, and the Young Tinker Group (Young Tinker Academy and Young Tinker Foundation).
Spacefields, founded by Apurwa Masook, Sudarshan Samal, and Rounak Agarwal, all from the 2019 Batch, is a pioneering venture that focuses on the space technology domain. Their startup has garnered attention for its cutting-edge solutions and innovative approach to space-related challenges. They are now developing dual-use Rocket propulsion tech for critical applications in national security and commercial spaceflight, to cater to burgeoning Space and Defence Markets in India and beyond.
Homvery, established by Prahallad Mittal from the 2018 Batch, has made significant strides in home-related solutions. Homvery started from the hostel room of Atri Hall of Residence and is now a leading home services provider in India, dedicated to delivering reliable and high-quality solutions for homeowners. With a wide range of services, including electrical, plumbing, and AC repair, we connect customers with skilled professionals for seamless maintenance.
IG Drones, founded by Bodhisattwa Sanghapriya and Om Prakash Das from the 2018 Batch, is at the forefront of drone technology. Their startup is revolutionizing various industries, including agriculture, surveying, and surveillance, through the application of drone technology. IG Drones has partnered with multiple State Governments and 30 of the biggest PSU's and MNC's and has executed more than 250 Projects.
Srujanee, led by Anurag Behera from the 2018 Batch, is a Multi-Lingual Blogging platform that lets people to write blogs in Indian Languages assisted by Intuitive authoring tool like Inbuilt Indian Language Keyboard, "Speech To Text" & Spell Checker For Indian Languages.
Consult & Counsel, co-founded by Bhanu Prakash Nanda and Suman Patra from the 2018 Batch, is a consultancy and advisory firm that offers specialized services to businesses and individuals. Consult & Counsel is an online, one stop guidance platform where people having doubts in any field are guided by mentors who are experienced professionals in the same domain.
The founders of Young Tinker Group including Young Tinker Academy and Young Tinker Foundation, Anil Pradhan and Vaishali Sharma Pradhan from the 2017 Batch, have not only established the Young Tinker Space but have also been instrumental in empowering students across the country with hands-on STEAM education by impacting lives of 2,50,000+ students.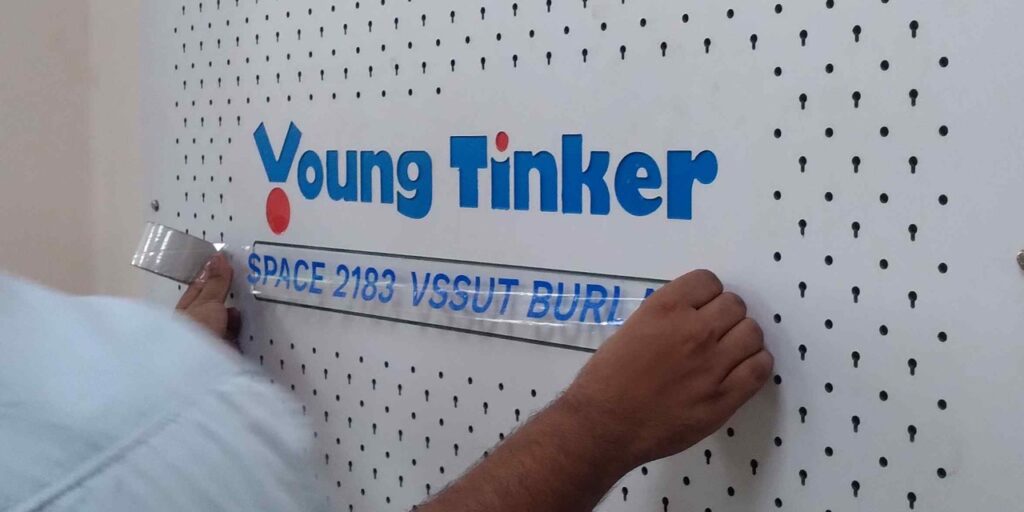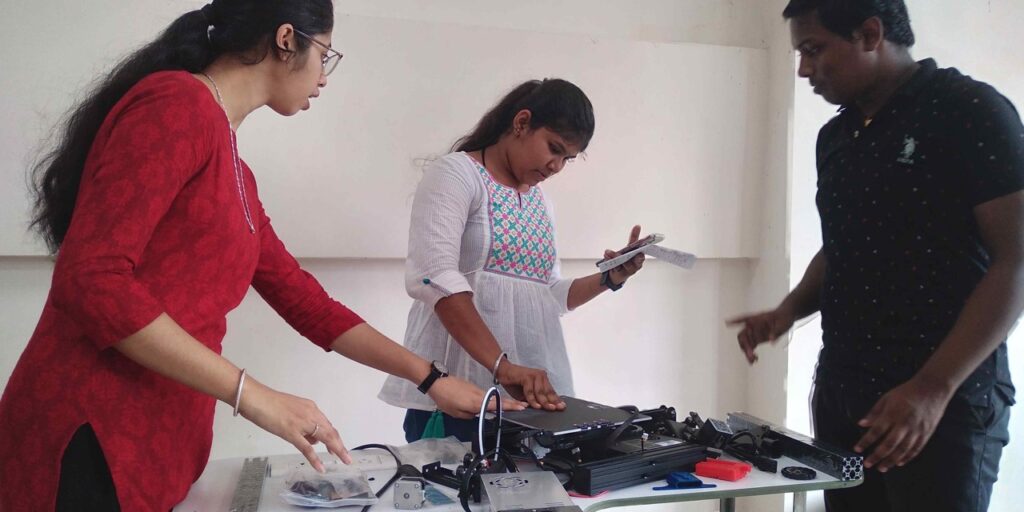 Furthermore, Prof. Ramakanta Panigrahi, the Dean of Faculty & Planning, appreciated the initiative and recognized the potential of the tinkerspace in providing students with a platform to transform their ideas into reality.
Shubranshu Ranjan Das, Secretary of the Idea and Innovation Cell, stated, "We enjoyed creating this tinkerspace by Young Tinker Group at our university. This tinkerspace will undoubtedly inspire and empower students to embrace innovation and tackle complex challenges. The initiative by our Alumni inspire us to do more and bring laurels to our univerosty."
About Young Tinker Educational Foundation:
Young Tinker Educational Foundation is a non-profit organization committed to providing equitable access to hands-on STEAM (Science, Technology, Engineering, Arts, and Mathematics) education and fostering future skills among students. The foundation has achieved remarkable success, with its students making significant strides at the international level, including securing World Rank 3 at NASA Human Exploration Rover Challenge 2021.
About VSSUT:
Veer Surendra Sai University of Technology, located in Burla, Sambalpur, Odisha, India, is the oldest engineering college in Odisha. The university, formerly known as the University College of Engineering, Burla, is situated on the foothills of the Hirakud Dam.
The Young Tinker Space at VSSUT Burla promises to be a hub for innovation, creativity, and hands-on learning, empowering students to shape the future through their ideas and inventions.