At Young Tinker Academy, we believe in nurturing the next generation of innovators and problem-solvers. Our recent Rapid Prototyping workshop in Chennai left us astounded by the sheer talent and determination displayed by 30 teenagers who joined us for an immersive 8-hour session. Witnessing their journey from curious minds to skilled Young Tinkers was truly inspiring.
During the workshop, these young enthusiasts took on the challenge of designing and manufacturing their very first functional prototype—a wrench capable of opening hex-nuts and bolts. But that's not all; they also assembled their own TinkerBox and 3D printers, a testament to their eagerness to learn and explore cutting-edge technologies.
So, you may wonder, how did they manage to achieve so much in just one day? The secret lies in the thoughtful curation of the workshop's sessions, which focused on empowering the participants to unleash their potential and tackle real-world challenges.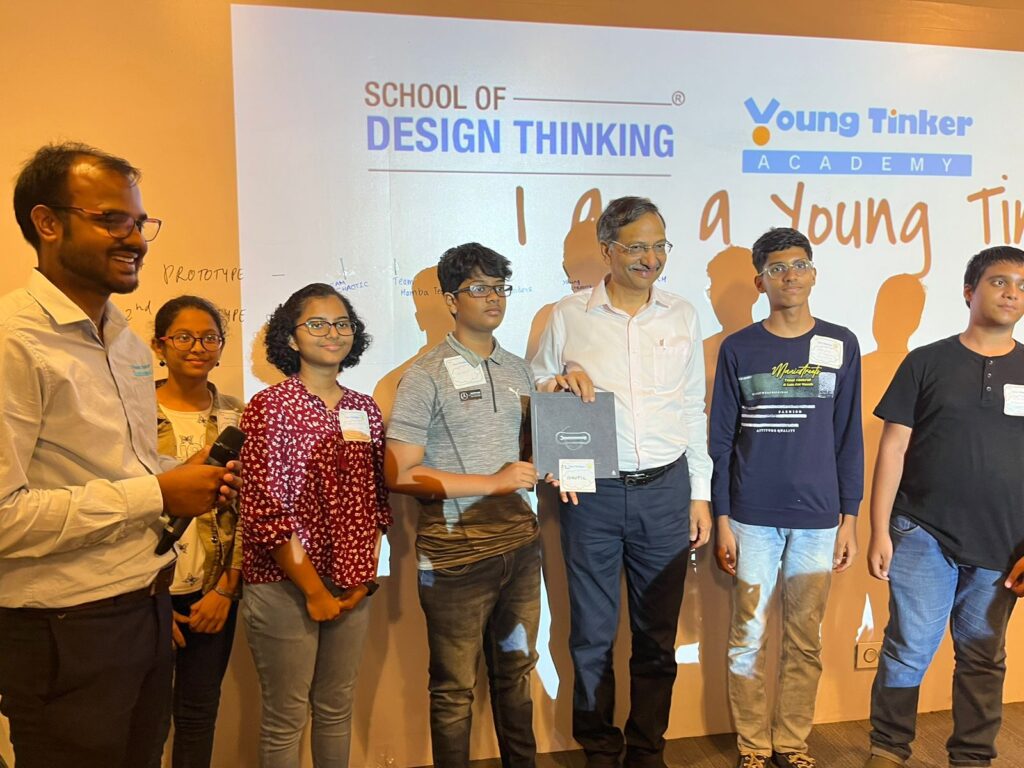 Self-discovery was at the core of our approach. We encouraged the teenagers to explore their interests, identify their strengths, and develop a growth mindset. This played a pivotal role in igniting their creativity and problem-solving abilities, setting the stage for what was to come. By fostering a team-oriented environment, we enabled collaboration and the exchange of ideas. Working together, the participants learned to empathize with each other's perspectives and leverage their unique skills to overcome hurdles. The power of teamwork was evident in the impressive outcomes they achieved.
Our structured design-thinking curriculum helped the Young Tinkers navigate through the complexities of product development. By continuously asking "Why?" at every step, they gained a deeper understanding of the underlying principles, fueling their motivation and driving their progress. A clear sense of purpose is a catalyst for success, and that was evident throughout the workshop. Each participant understood the significance of their work and how their prototypes could make a real impact in the world. This sense of purpose propelled them forward with unwavering determination.
We are grateful to Intellect Design Arena Ltd for giving us the opportunity to conduct this workshop for the wards of their employees. The active involvement of Intellect employees during the process further enriched the experience for the young participants. Special thanks to Arun Jain, Dr. Anbu Rathinavel, Vijay Rangaraju, and the entire team for their support and dedication in making this workshop a resounding success.
As we look to the future, we are excited to announce that our Young Tinker Academy will soon launch its own Young Tinker Space inside a container at Intellect, Chennai. This innovative space will be a hub for young minds to explore, experiment, and create groundbreaking solutions. The journey of a Young Tinker begins with curiosity and culminates in confidence. We are proud to witness these teenagers walk into our workshop as kids and walk out as Young Tinkers, equipped with skills that will shape their futures and make a difference in the world.
Stay tuned for more inspiring stories of innovation and empowerment as we continue our mission to ignite the spark of creativity in the leaders of tomorrow. Together, let's build a brighter, more innovative future—one prototype at a time.