We are thrilled to share the remarkable achievement of our Young Tinker Academy alumnus, Shreyansh Vikas Mishra, who has been selected for the prestigious SAKURA Science High School Program in Japan. This remarkable opportunity, set to take place from November 5th to November 11th, 2023, is a testament to Shreyansh's exceptional talent and the invaluable experiences he gained during his time at Young Tinker Academy.
The SAKURA Science High School Program is a collaborative initiative between the Department of Science and Technology in India (@IndiaDST) and the Japan Science & Technology Agency (JST). This program aims to foster scientific and technological exchange between Asia and Japan by facilitating short-term visits of promising Asian youths to Japan, where they can interact with top universities, research institutes, and even attend lectures by Japanese Nobel laureates.
Shreyansh's journey to this prestigious program began in 2021 when he joined Young Tinker Academy's one-year program. During his time at the academy, he was selected to participate in the NASA Rover Challenge 2023. His exceptional skills and dedication contributed to the team achieving a remarkable third-place world ranking in this international competition. This experience ignited Shreyansh's passion for ideating, designing, and building functional prototypes, and from that point on, there was no looking back.
In 2022, Shreyansh further showcased his talent by securing a spot in the top 60 out of 6.53 lakh ideas received from across India at the Inspire Awards MANAK (Million Minds Augmenting National Aspirations and Knowledge). At the 9th National Level Exhibition & Project Competition (NLEPC) hosted by the National Innovation Foundation, Department of Science and Technology, Government of India, Shreyansh's outstanding project, "Novel Ergonomics for Neck," was recognized and celebrated.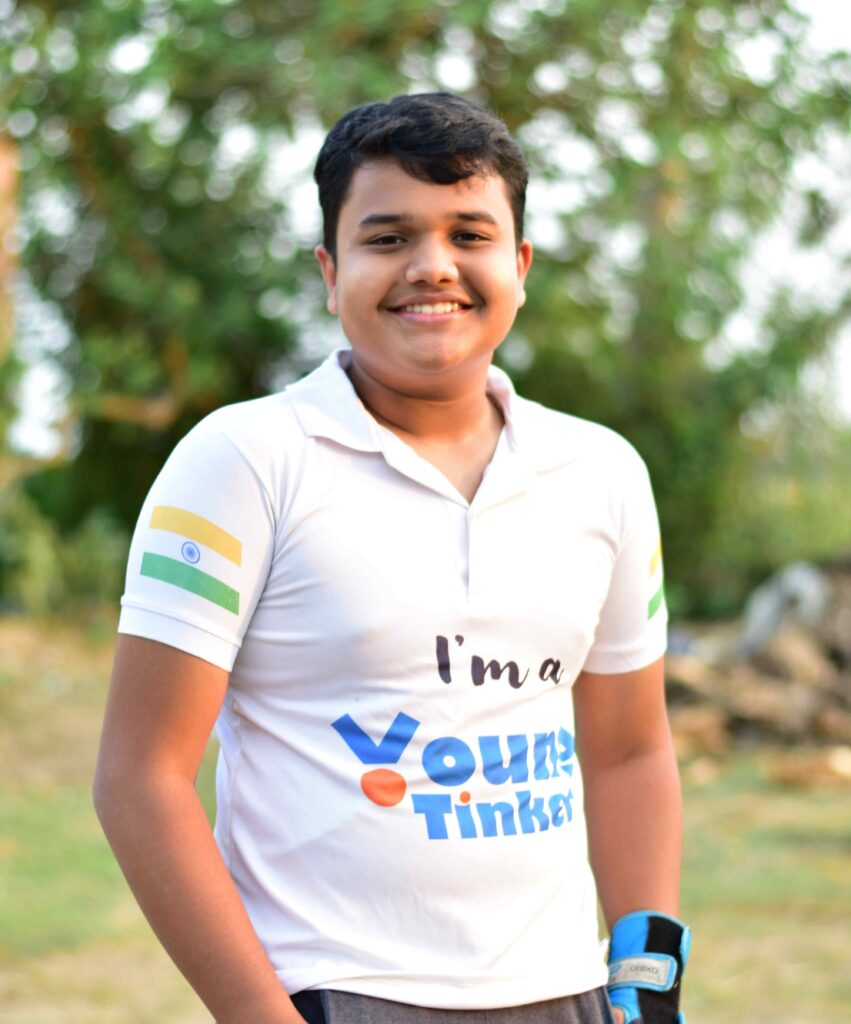 The award was presented to Shreyansh by Jitendra Singh, Union Minister of State (Independent Charge) for Science & Technology and Earth Sciences, at a ceremony held at Delhi's Vigyan Bhawan. Shreyansh's project offers an affordable and innovative solution for neck discomfort, reducing strain, fatigue, and injuries by providing essential support to the neck and spine muscles. It is especially beneficial for individuals who are required to sit for extended periods at work.
The 9th NLEPC, which took place in Delhi on September 15, 2022, featured exhibits from 556 students from schools across the nation. Shreyansh's outstanding achievement demonstrates the impact of Young Tinker Academy's commitment to nurturing young talents and providing them with opportunities to excel.
Dr. Rashmi R. Acharya, Shreyansh's mother, expressed her gratitude, stating, "Shreyansh has learned many skills at Young Tinker, for which we shall be ever thankful for providing a great opportunity to him."
Our founder, Shri Anil Pradhan, shared his heartfelt congratulations, saying, "Congratulations, Shreyansh. Thanks for making our Young Tinker family proud. Experience Japan and build for India."
Shreyansh's journey from Young Tinker Academy to Japan from November 5th to November 11th, 2023, is a testament to the immense potential of young minds when they are provided with the right platform and opportunities. We wholeheartedly congratulate Shreyansh on this stellar achievement and look forward to witnessing the incredible contributions he will make to the world of science and technology.