Written by – Akarsh Chitteneni
Will we win? Will I learn a lot of new things? What about the TED talk? Will it go smoothly? Spoiler alert: everything went really well. These were the thoughts that were bugging my mind when we started our journey from Gannavaram Airport in Vijayawada, where I would later hop on a flight to Delhi. We reached the airport in Vijayawada around 7 in the morning. After a final round of goodbyes, I went inside to join Akshara, who was already there. Together, we boarded the flight to Delhi, and after about 2 hours, we arrived. At the Delhi airport, we met the rest of the team. It was really nice to see all the members after three months. We decided to take some rest at a hotel in Delhi as we had a 15-hour long flight that night. 
At 11 pm, we reached the airport and completed all the required tasks. The excitement kicked in as this was my first international trip. We boarded Air India 127 to Chicago. We carefully counted the hours we slept during the journey to avoid jetlag. On the morning of the 15th, we finally arrived in Chicago.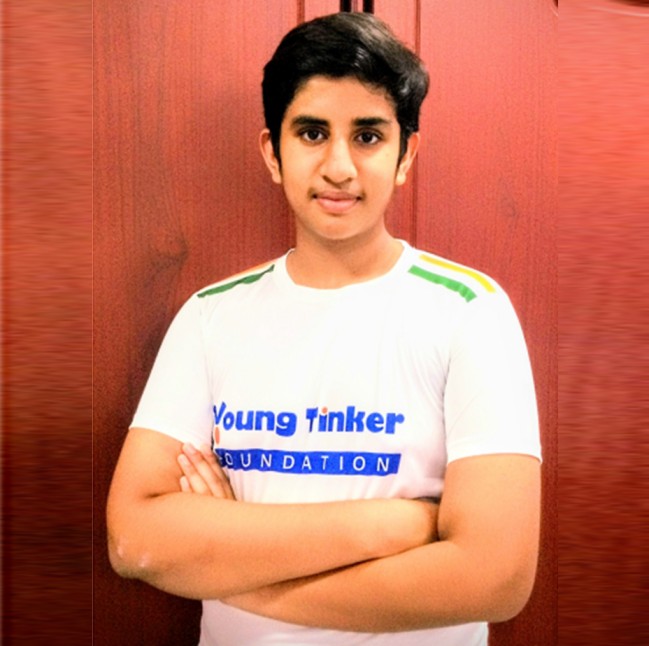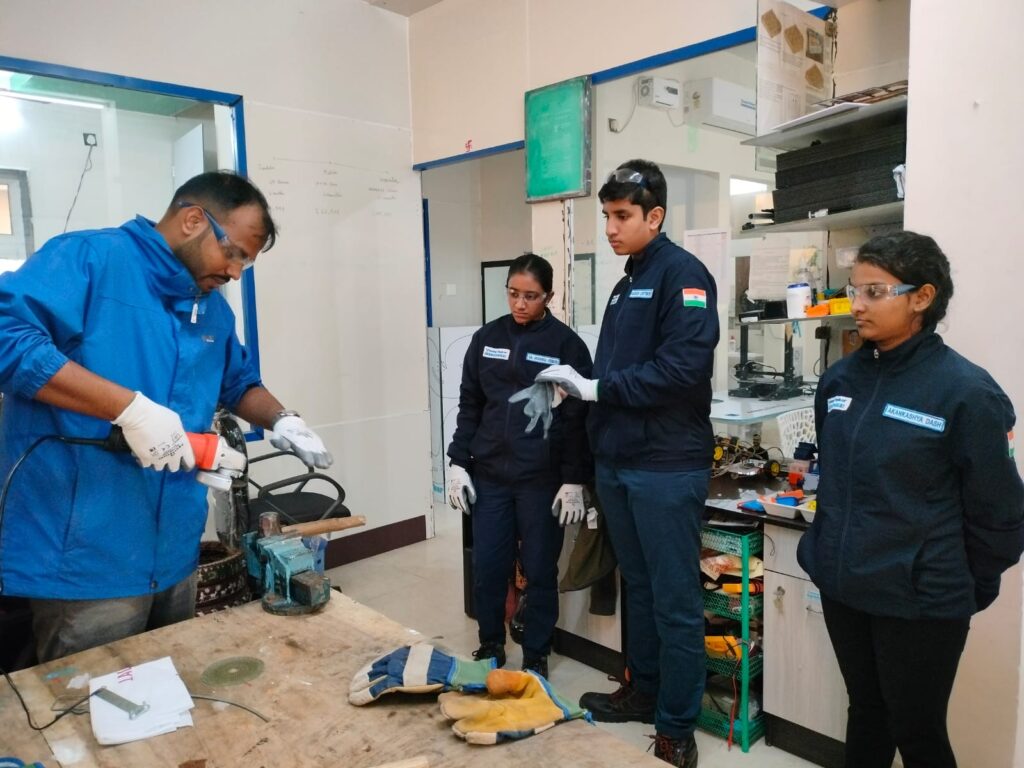 Manoj Mahapatra picked us up and took us to his house for breakfast. Afterward, we went to the yellow box where a Lego robotics competition was being held. It was astounding to see the projects done by young children. We gave a brief talk there about the competition, how our team was formed, and our rover. It was really nice to interact with both the Indian and Western community in Chicago. We then went to the Best Western hotel, where we would be staying for the next four days. That night, while enjoying some cheesy deep dish, we discussed ideas for the upcoming TEDx talk.
The next morning, we started the day with some practice for the TED talk until Sukant Palo and Manoj Mahapatra came to pick us up for a drive to downtown Chicago. In downtown, we visited the enormous Museum of Science and Industry. After exploring the museum, we felt inspired by the technologies that have advanced humanity, including the real Apollo8 module and Aurora 7 capsule. We also visited Lake Michigan, which offered a beautiful view of the skyscrapers in Chicago, including the Willis Tower, the tallest building in the city.
We saw several famous places in Chicago, such as planetariums and museums, and took a walk along the Magnificent Mile, which showcased various towers, including the Trump Tower. It was truly a spectacular view. We were then invited for dinner at Gyana and Sujatha Patnaik's house, where we enjoyed some Chinese cuisine. I was delighted to see the supportive and encouraging Indian community in Chicago.
The next day was the day of the TED talk. We started the day with practice in our rooms, doing several dry runs to ensure everything was perfect. We were taken to a mall by Mohantis, where we did some shopping and explored around, noting the differences between American malls and the ones in India. We visited shops where people could knit their own rugs and engage in painting and relaxation, which are not typically found in traditional malls in India. For lunch, we enjoyed some Mexican delicacies at a nearby restaurant. Then we returned to our rooms for some last-minute practice and more dry runs. After wrapping up the practice, we got ready and began our journey to the Nokia Center, where the event was being held.
During the first segment of the event, we showcased our Tinker box and explained our rover, while also learning about other teams' robots. It was a great experience to interact with high schoolers from another country and learn about their projects, journey, design process, and the students themselves. Then came the time for our TED Talk. Each of us chose various motivational topics to speak about. I talked about confidence and how this competition played a significant role in boosting my self-assurance and skills. Akshara spoke about team spirit and recited our team's motto, while Siddhanth discussed how failure is merely a stepping stone to success. The audience's standing ovation was truly incredible and uplifting. I want to express my heartfelt gratitude to the mentors for pairing us into teams of two. Personally, I was paired with Basu, and throughout the trip, I not only learned practical skills but also picked up some knowledge of Odia from Basu. Our bond as friends has grown stronger as we got to know each other better.

April 18th marked our last day in Chicago. We had a quick and satisfying breakfast at our hotel before heading to Downtown for the second time. Our first stop was Millennium Park, which we had missed during our previous visit. We marveled at the famous bean sculpture and took some photos nearby.
Afterward, we explored the rest of the park and proceeded to take a stroll to the John Hancock Tower, admiring the beauty of Downtown along the way. Once inside the tower, we visited the Signature Lounge and room on the 96th floor, treating ourselves to an awe-inspiring view of Chicago. The sight of towering skyscrapers on one side and the breath-taking Lake Michigan on the other evoked such emotion that I may have shed a tear. We continued our leisurely walk in Downtown, admiring the stunning architecture of the buildings.
Next on our agenda was the most significant appointment of the day: a visit to Lindblom School. There, we met with the robotics teams of the school, sharing the design of our rover and explaining how the competition works. They, too, discussed their robot and the competition they were participating in. We were impressed by their previous year's robots, which they proudly showcased. Before leaving, we performed our team chants together and had the opportunity to see their workshop. Returning to our rooms, we made a stop at a nearby store for some shopping before going to an Indian household for dinner, savoring the flavors of Odia cuisine. We bid our final goodbyes to the Indians in Chicago, expressing gratitude for the wonderful experiences and learning opportunities we had during our time there. The whole Chicago experience was filled with learning, fun, and new discoveries. I extend my sincere appreciation and thanks to all the people who contributed to our enjoyable stay in Chicago and provided us with this amazing opportunity to experience unforgettable moments.
The next day, April 19th, we boarded our flight from O'Hare International Airport in Chicago to Huntsville. We arrived in Huntsville around 1 PM and were picked up by Karmakar ji, who took us to a nearby hotel for lunch. Afterward, he drove us to the motel where we would be staying for the next few days. Once we settled in, Anil sir called us for a group meeting. During the meeting, he informed us that the chances of our rover reaching Huntsville in time for the competition were practically impossible. We were all saddened by this news, but the mentors motivated us to focus on other awards that didn't require the presence of our rover. Though a bit disheartened, we decided to concentrate on winning those awards. The next morning, after having our breakfast, we went to the competition arena.
We first checked if our rover had arrived, but unfortunately, it hadn't. We then began interacting with other teams and learned about their rovers. We had conversations with teams like KIETS, Blue Ridge, and Escambia, among others. Following that, we had a course walk-through and attended a safety conference at the National Geographic Theatre. During the conference, we were briefed on various safety regulations that needed to be followed during the competition. Later on, we visited a museum within the Davidson Center, which was fascinating and quite spacious. To end the day on a positive note, we enjoyed some delicious Biryani. Excursion Day 1 arrived, and we observed several rovers on the track. Some performed well, while others encountered breakdowns. We eagerly hoped to see our rover on the track as well. To our delight, we received the wonderful news that our rover had finally arrived in the United States. However, there was still a long journey ahead to reach Alabama, and we worried about potential delays. In a rush, we approached the competition officials and requested their assistance in contacting the delivery company.
Miraculously, within the next 30 minutes, our rover was in our possession. We felt immense joy and gratitude. We then proceeded to unpack the rover at our designated pit area and discovered that the pulley had been broken during shipment. It was a devastating realization as we understood that fixing the pulley would take a considerable amount of time. Nevertheless, we made the decision to stay positive and give our best effort. We first took it for the MRR (Mission Readiness Review) to perform various constraint checks, and then we hurried to the pit crew to find solutions for the pulley problem. After considering several alternatives, we settled on the best one. We spent the entire day at the pit crew, working tirelessly to fix our rover. In the evening, we used superglue to repair the part, hoping that everything would go smoothly the following day. For dinner, we visited our host family's house and enjoyed some Telugu food before returning to our motel for some sleep. That night, we also worked on our task tool for the next day's competition.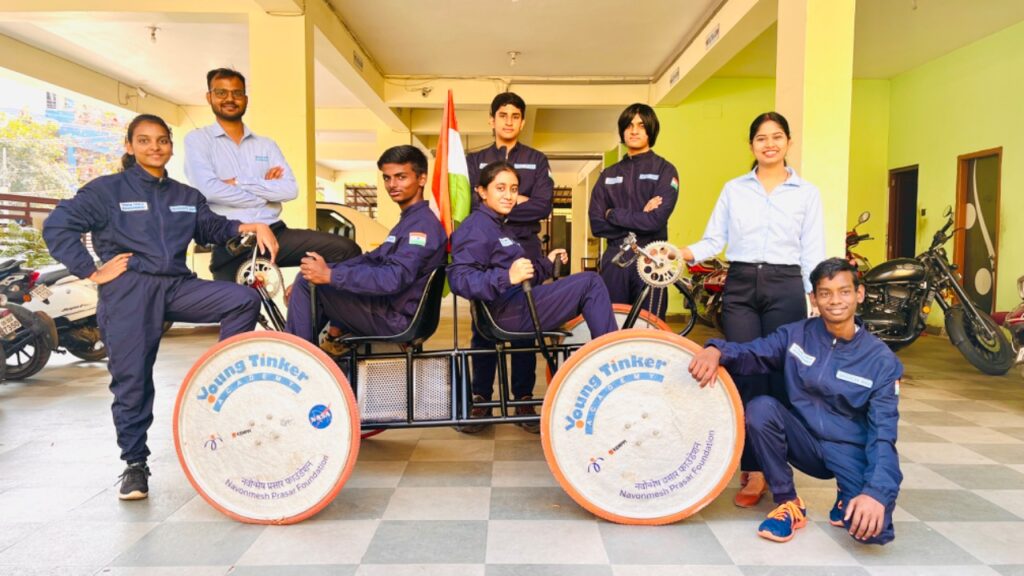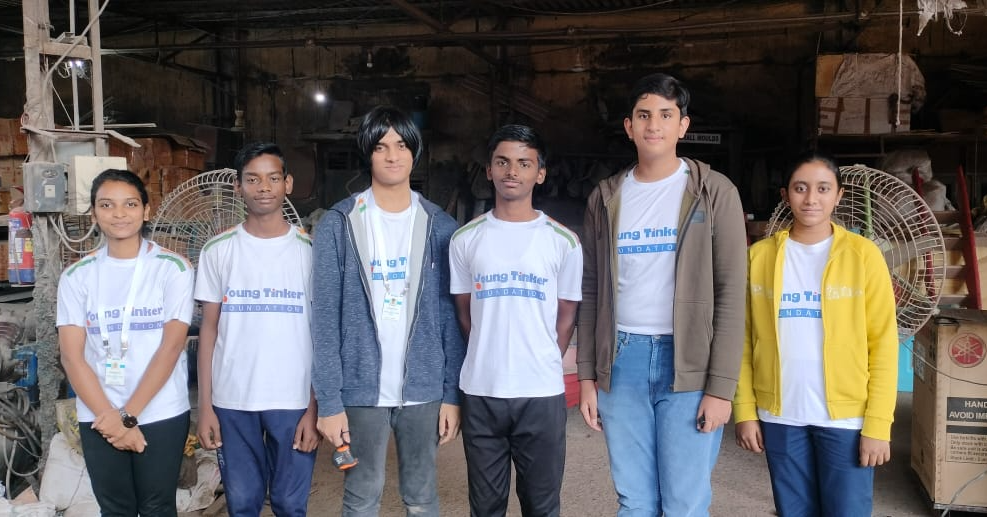 Then came the most crucial day of the entire trip, Excursion Day 2. We felt extremely nervous as we embarked on our car journey to the competition arena. Upon arrival, we noticed a few teams finishing their course. We devised various tactics to maximize our points, considering the challenges posed by our pulley situation. We strategized the tasks we wanted to accomplish and the obstacles we intended to overcome.
Soon enough, it was our turn for the excursion. We swiftly made our way to the start line, observing the nervousness on everyone's faces. To prevent any further damage, we carefully lifted the rover onto the start line. Then, as the siren sounded, we enthusiastically jumped and clapped to encourage our two pilots on the rover.
I quickly made my way to the TV area to get a better view of the excursion. Suddenly, there was a topple at the third or fourth obstacle. We all hurried to the obstacle to check on our teammates. However, I saw them getting back up and continuing ahead. We were incredibly proud of their determination and perseverance, which aligned with our motto. After a few minutes of the excursion, we gathered at the finish line to meet our pilots. We witnessed our rover crossing the finish line, and our joy knew no bounds. Just a day ago, we had lost hope of our rover making it to the competition, and now we were witnessing its successful completion of the course. That was the moment when I started to believe in miracles. 
After the excursion, we went for lunch and took some rest. We kept a close eye on the tally table to see our position. After an hour or two, we headed to the Davidson Centre to complete our tour of the shuttle park while waiting for the award ceremony. It was a marvellous and fascinating experience to witness a large number of aircraft, engines, and more. We even went on two rides and thoroughly enjoyed ourselves. Around 5:30, we returned to the National Geographic theatre for the award ceremony. Excitement filled the air as we settled into our seats, eagerly awaiting the start of the ceremony. They began announcing the awards, and after a few rounds, it was time for the Social Media category. I heard the announcer say, "The award goes to the Young Tinker Foundation." We were all taken aback for a moment, and then we quickly leaped from our seats, overflowing with joy. We made our way down the steps to receive our award, feeling surreal and deeply grateful to everyone who supported us. 
After the ceremony, we took some pictures with the award while waiting for our ride. Later, we visited an outdoor mall where we indulged in some ice cream. We concluded the day with a delightful meal. The following morning, we packed our suitcases and headed to the Huntsville airport to catch our flight to Washington, D.C. After a two-hour flight, we finally arrived in Washington. Partha Panda ji picked us up, and we would be staying at his house for the next two days. Once we reached the house, we settled in and enjoyed some snacks. Then, we all went to the park to play games and relax. Upon returning home, we had the opportunity to meet some Indian families. We introduced ourselves and shared some of our videos. That was essentially how the day unfolded. The next morning, we woke up early and relished a delicious pav bhaji breakfast. We then visited the Museum of American History. Although our tour was brief, we thoroughly enjoyed it. It was incredible to see various topics come to life visually, which we had previously studied in our textbooks.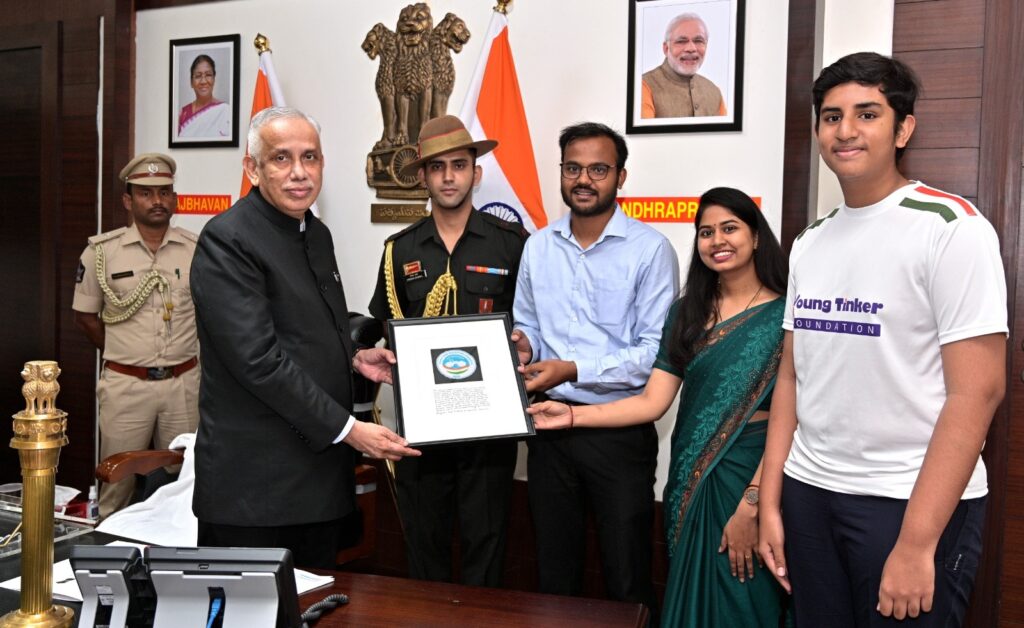 Regardless, the next morning, we completed our final packing and headed to the airport in Washington to catch our flight back to India. While waiting, we enjoyed some fast food and took a stroll around the airport. Eventually, we boarded our flight, although this time it wasn't as comfortable as the previous one, as I couldn't manage to get any sleep. After 16 hours of travel, we arrived back in India. At the Delhi airport, I bid my final farewells to the rest of the team as I had to proceed to Terminal 2 to catch my next flight. I spent some time wandering around the vast Hyderabad airport while awaiting my ride.
After a few hours, I boarded my flight to Vijayawada. Upon landing at the Vijayawada airport, Akshara and I were greeted with a bouquet of flowers, and our joy knew no bounds as we reunited with our parents after almost two weeks. I feel incredibly happy and grateful to have been part of this amazing team.
The entire experience was filled with valuable learning opportunities and new experiences. I sincerely thank our mentors for their guidance and support throughout the competition. I also extend my gratitude to each and every person who contributed to making this trip a memorable one. Additionally, I want to express my appreciation to our supporters in Chicago, Huntsville, and Washington, D.C., for ensuring our trip was comfortable and unforgettable.