In a momentous occasion filled with pride and honor, the founders of Young Tinker Group were invited by the Hon'ble Governor of Andhra Pradesh, Shri S. Abdul Nazeer, on 26th May 2023 at Raj Bhawan, Vijayawada.
This prestigious event was a courtesy call to celebrate the outstanding achievements of the 6-membered student team from the Young Tinker Foundation, who garnered a remarkable award at the esteemed NASA Rover Challenge 2023. Notably, two of the brilliant students, Akarsh Chittineni and Sai Akshara Vemuri, hailed from Andhra Pradesh.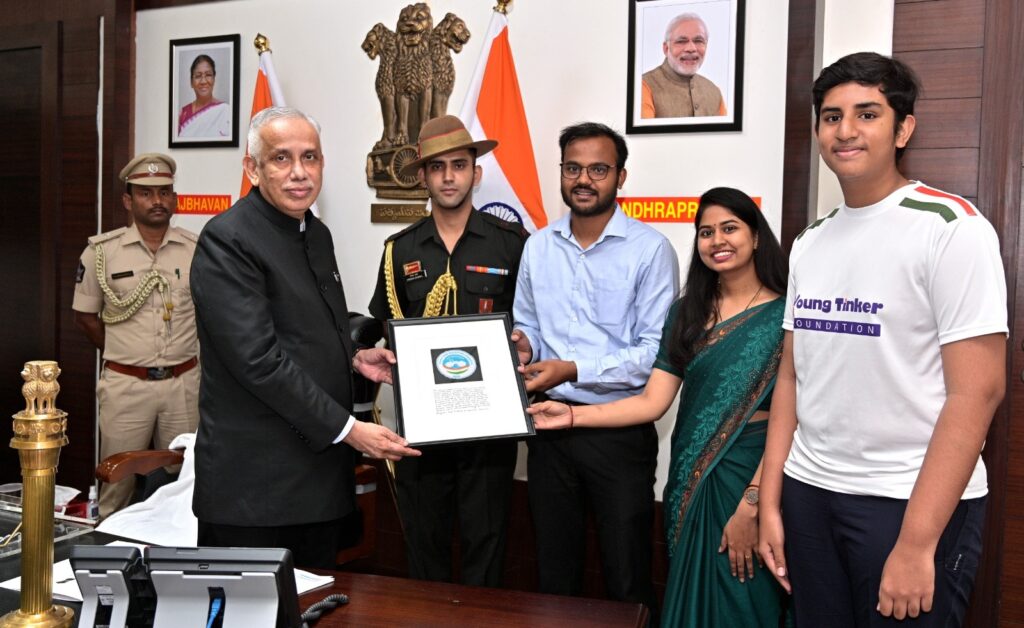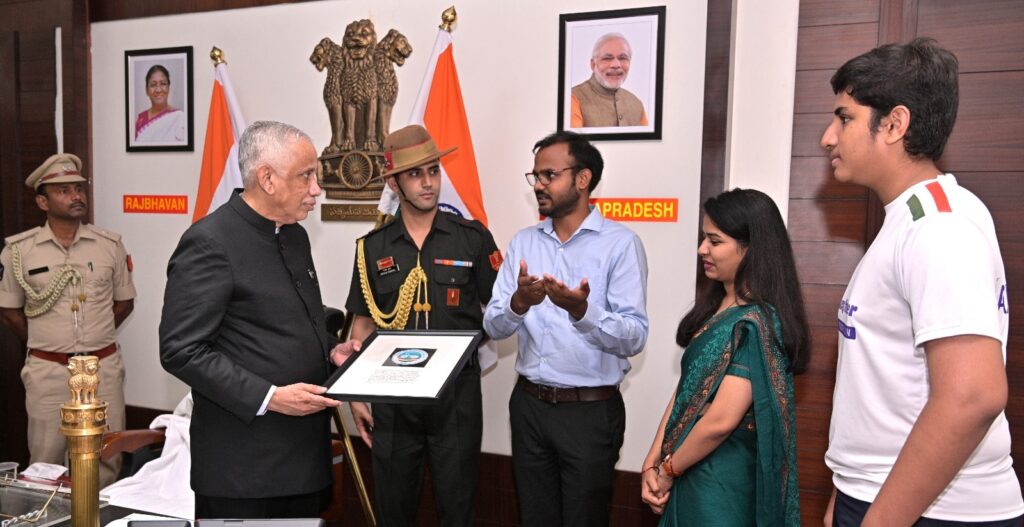 The Young Tinker Foundation's founding members, Er. Anil Pradhan and Er. Vaishali Sharma Pradhan, stood tall with pride as they handed over the team's Mission Patch to represent their ambitious mission at the NASA Human Exploration Rover Challenge 2023. The Mission Patch itself was a testament to the students' ingenuity and vision, featuring a white rover with four wheels, adorned by the Indian tricolor and christened "Anveshak 2084."
The name "Anveshak" meaning "explorer" in Hindi, perfectly encapsulates the spirit of these young minds, while the coordinates "2084" signify the geographical location of Bhubaneswar, where the rover was skillfully built.
The accolades showered upon the Young Tinker Foundation's team were well-deserved, given the remarkable feat they achieved at the NASA Rover Challenge 2023. The journey began with a dream – to ignite young minds with hands-on STEM learning, and this vision has impacted over 1,50,000+ students across the country. Through innovative programs and initiatives, the Young Tinker Group has succeeded in bringing the marvels of Science, Technology, Engineering, and Mathematics (STEM) education to the forefront, inspiring countless young innovators to dream beyond boundaries.
The Hon'ble Governor of Andhra Pradesh, Shri S. Abdul Nazeer, warmly appreciated the efforts of the Young Tinker Foundation in revolutionizing STEM education in the country. With boundless enthusiasm, he praised the team's commitment to nurturing creativity, problem-solving, and critical thinking among students. Their achievements have not only brought pride to their state but also served as a beacon of hope for the future generation of explorers and inventors.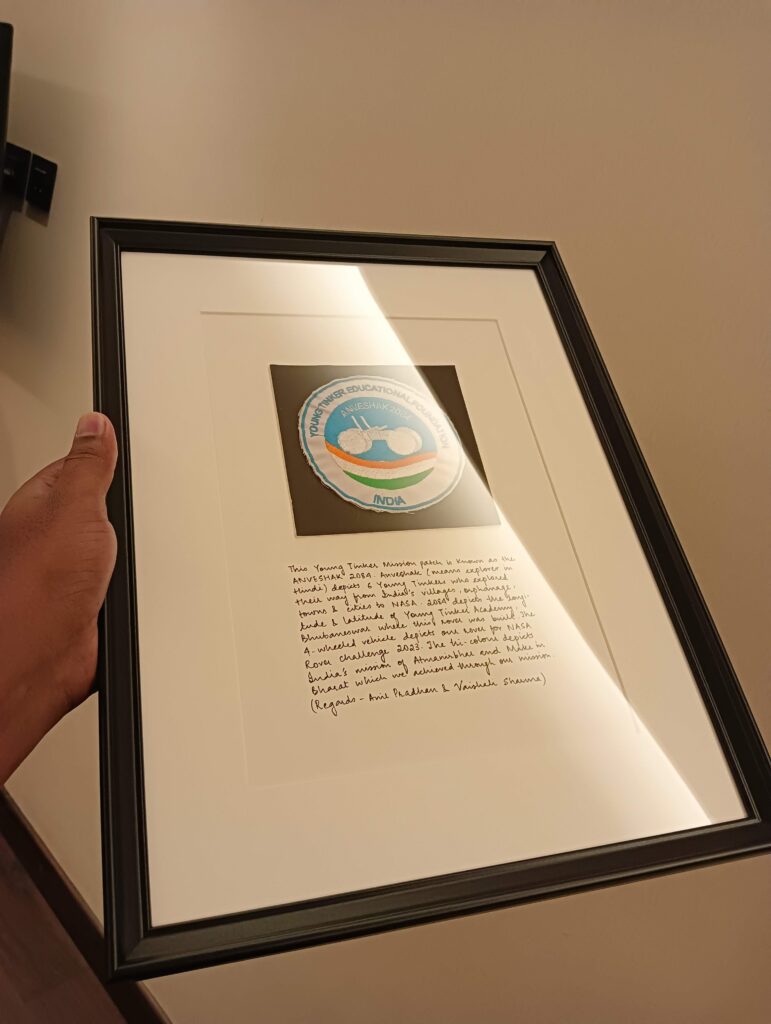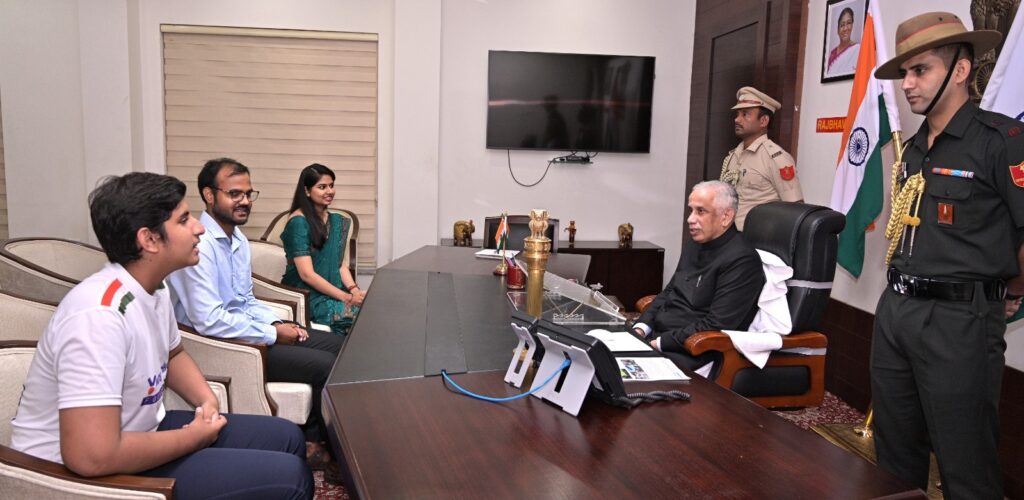 As the Young Tinker Group basks in the glory of this esteemed recognition, they remain steadfast in their mission to empower young minds and propel them towards a future of innovation and exploration. With the unyielding support of visionaries like Er. Anil Pradhan and Er. Vaishali Sharma Pradhan, the foundation is determined to continue its journey, creating opportunities for countless students to dare, to dream, and to discover.
In this momentous gathering at Raj Bhawan, the Young Tinker Group reinforced their commitment to fostering a passion for STEM education and inspiring young minds to reach for the stars. Their journey of success, dedication, and impact continues to unfold, leaving an indelible mark on the landscape of education in India.